Ibiza
Ref. 402
north coast
villa at slope site
Magnificent sea & coastal views! Marvellous villa with guest apartment
€ 1.950.000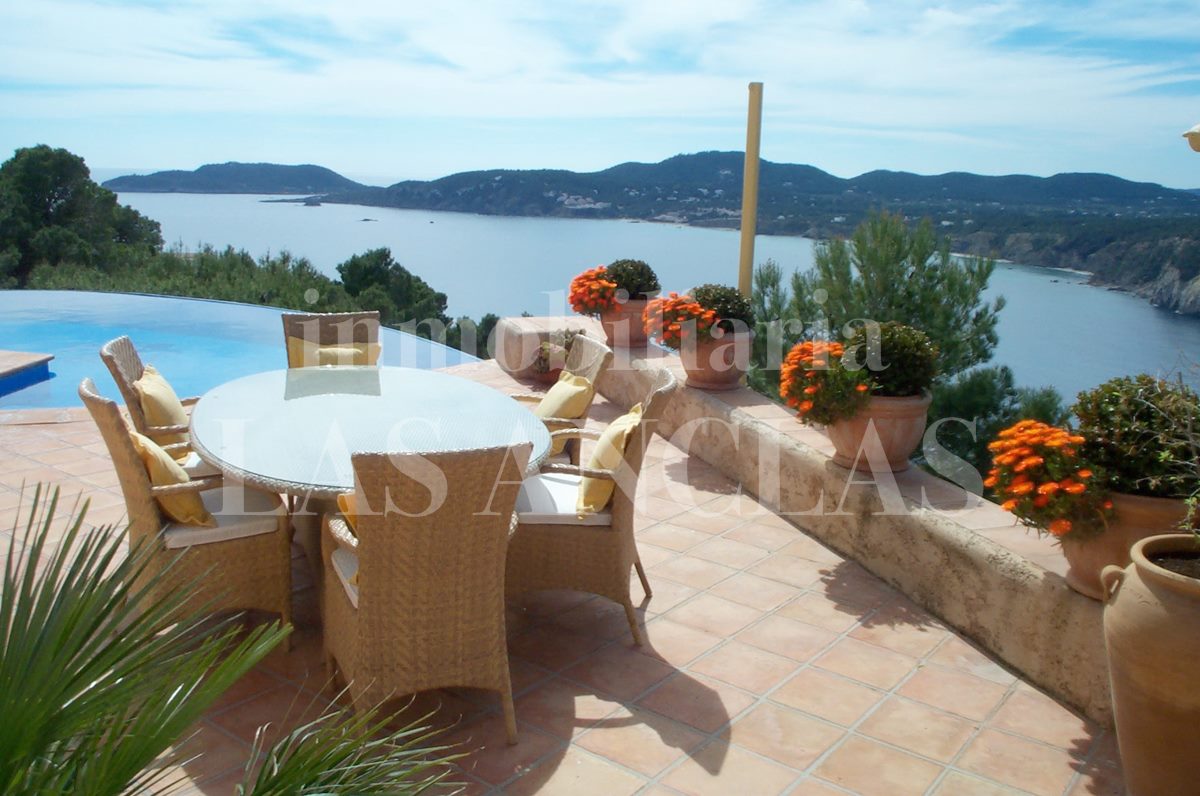 2 bedrooms
dining area
dining room
living room
TV-room
hall
+ guest apartment:
bedroom
lounge

3 bathrooms
2 kitchens

store room
utility room
pool room
sauna
workshop
wine-cellar

adjustable illumination, alarm system, aluminium windows, built-in wardrobes, central oil heating, cistern, double glazing, en suite bathroom, exterior lighting, fireplace, fishpond, fitted kitchen, garden, guest apartment, integrated ceiling lights, natural stone walls, outside shower, pool, sauna, terraces, terracotta floors, underfloor heating, wine cellar
property description
This villa is located at the north coast of Ibiza, in a tranquil area and with absolute privacy.
The views from all of the rooms and terraces are so spectacular that it is difficult to describe them in words.
Not only is there a panoramic view of the enchanting turquoise sea, but also a delightful view of the coast and of the surrounding countryside. For those who love the beach, it's also a bonus to be able to overlook from your own terrace if your favourite place is still free.
As well as the quality of the water, this house also has been constructed to a very high standard and is to be found in a perfect state of repair. Although the house is on a mountain, all of the land belonging to it has been worked and decorated tastefully and has resulted in a Mediterranean paradise. A bench on which to rest, next to a beautiful pond and with a sea view, is just one of the many places offering tranquillity and rest.
The house has a lovely natural stone tower and outside walls are easily maintained and are painted in beige, underlining the rustic character of the property.
The interior and exterior flooring is of high quality terracotta. The open fireplace in the living room gives, if possible, an even cosier air to the place. Next to the living room is a T.V room which could easily be converted into another bedroom if needed.
The ground floor also has a dining area plus a dining room with a bar inside the tower, a beautiful shower room, a sunny, fully equipped kitchen and an enormous south facing terrace, with a swimming pool with cascade and a barbecue area.
On the top floor, also within the tower, is another bedroom with access to a terrace.
Next to the front door is a staircase leading to the spacious master bedroom with access to a balcony and sharing the terrace with the other tower bedrroom. The pretty and ample bathroom has a shower and a corner bathtub. A bath here must be pure luxury, contemplating the incredible facing views of the sea and the beach.
The house also has a generous independent guest apartment, situated beneath the living room. This offers guests total comfort, with a living room – dining room, a kitchen, a bedroom, a spacious bathroom, a store room and a beautiful terrace.
On top of all this, the workshop, the pool machinery, a pretty wine cellar, the utility room and a sauna are all cared for in an extraordinary manner.
To sum up, this is a jewel of a property, excellent value for money, which will find new owners very quickly.