About us
Having previously worked for many years in the real estate industry, Dieter and Ulrike Sköries founded their joint real estate company called LAS ANCLAS Ibiza in the year 2000.
The anchors
LAS ANCLAS means the anchors in English. The name symbolizes safety, strength, durability.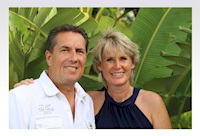 Dieter & Ulrike Sköries
Dieter, who was born in Spain in 1960, grew up in a family already in the construction and property sector on the Spanish mainland and can therefore look back on a lifetime of experience.
Ulrike started in the real estate sector in 1996, when she moved to Ibiza with Dieter. She sees the profession of broker rather as a vocation, exercised daily with passion and love, hard work and tireless dedication.
Multilingual team
A solid, multi-lingual crew (Spanish, Catalan, English, German, Italian and French) completes the LAS ANCLAS team.
Knowledge and confidence
With knowledge and confidence in the mutual capabilities and through constant training, professional development and weekly staff meetings, at LAS ANCLAS clients encounter a team well attuned to each other, and focused competently on their desires and needs.
Approved legality
Inmobiliaria Las ANCLAS only offers properties that were previously checked for their legality and provide excellent value for money.
Accurate advice is our principle - satisfied clients our goal!
Dieter & Ulrike Sköries
Business owners
inmobiliaria
LAS ANCLAS Ibiza S.L.