Ibiza & Formentera
Ibiza, known as Eivissa in Catalan, has an area of 572 square kilometers and is the third largest of the Balearic Island after Majorca and Menorca. The island of Formentera is situated south of Ibiza, only about 20 minutes away by ferry. Because of its beautiful beaches and crystal clear water in breathtaking shades of turquoise it is called the Spanish "Caribbean".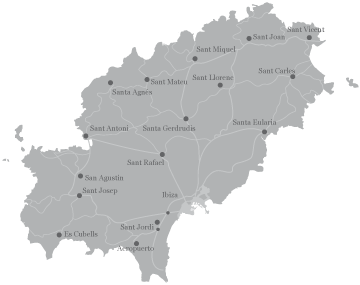 With many more small and uninhabited rocky islands Ibiza and Formentera make up the Pityusa Islands. Ibiza is a traditional holiday destination of the international jet set and the island of "the rich and beautiful". Since the 90s, the island is also a meeting place of the young and the young at heart who party in the numerous night clubs and discos.
Diversity
Ibiza is also popular worldwide because of its diversity. On a manageable scale picturesque countryside with the famous almond blossom in January and February, gorgeous sandy beaches and secluded bays, tradition rich in history and exquisite cuisine compose an extraordinary symbiosis of modernism, enjoyable vibrant nightlife and events that attract worldwide attention.
Ibiza property market
The Ibiza real estate market offers as much diversity, and meets almost any aspirations. Not only the high-class luxury sector is serviced satisfactorily, but also lovers of authentic estates and charming holiday homes will find their unique gem at our agency.
The limited area and the decreasing ability of the building makes the acquisition of properties in good locations for a long time for investors to value a safe and stable investment that can be enjoyed simultaneously in full.
Ibiza. Unique, diverse, magic! Welcome home.